Product Details
This is an EN 1078 Certified general size helmet for adult.
How to choose a Helmet
1. If it's EN1078 Certified.
EN 1078,  is a European standard, specifies requirements and test methods for bicycle helmets.
2. If it's full hard protected.
3. If it's comfortable.
Why choose ours helmet:
1. EN1078 Certified.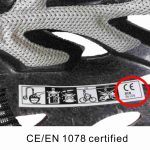 2. Full hard protected.
3. Full cushion covered, even hat rope. So it's safe, fully covered, very Light and comfortable.
Under the new regulation, it will be mandatory for all cyclists to wear helmets when riding on roads. This is for their own safety as cyclists are more vulnerable
compared to other vehicles on roads. Those caught riding bicycles and power-
assisted bicycles on roads without wearing a helmet can be fined up to $1,000
and/orailed up to three months upon conviction for the first  offence.